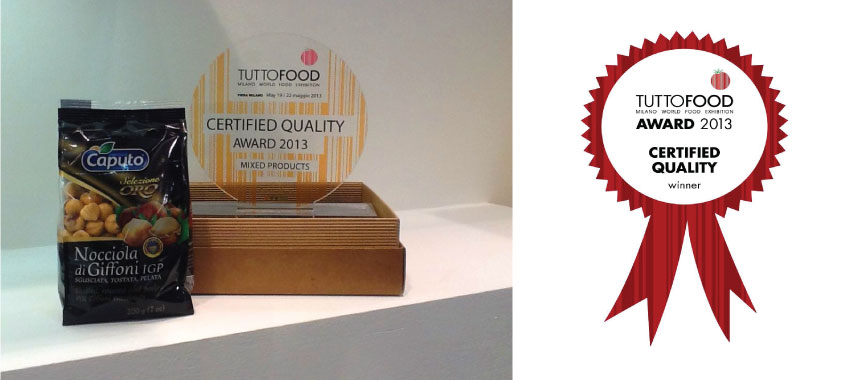 Vincenzo Caputo Srl wins at Tuttofood 2016
Comments Off

on Vincenzo Caputo Srl wins at Tuttofood 2016
Tuttofood 2016: The company from Somma Vesuviana triumphed with its PGI Giffoni Hazelnuts.
Vincenzo Caputo Srl, a company from Somma Vesuviana (Naples) specialised in the commercialisation and packaging of dried fruit, was awarded at Tuttofood 2016, which ended yesterday in the exhibition centre of Rho (Milan). Among the winners of the Certified Quality 2013 contest, a display window for the exhibitors of Tuttofood 2016 whose aim was to highlight the excellence of local agro-industrial products, Vincenzo Caputo Srl was given the first prize for its PGI Giffoni Hazelnuts in the category "Multiproduct – Dried products".
The goal of the Certified Quality 2013 contest, which took place in collaboration with the Qualivita Foundation, was to promote and support the agro-industrial companies that invested in a certified production recognised by European regulations (PDO, PGI and BIO) and point out the concepts of traceability, control and safety of the production processes of certified products.
The buyers at TUTTOFOOD decreed the winners among 3 finalists chosen for every category from more than 150 contestants by the Qualivita Foundation.
Source:  Marco Pederzoli per MySnack