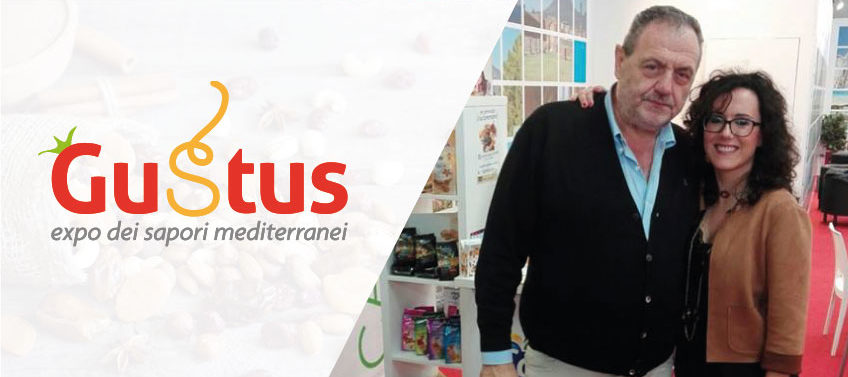 Gustus expo Naples 2016: the partecipation of Vincenzo Caputo srl
Gustus Expo Naples 2016 and the nutritional principles of dried fruit.
Vincenzo Caputo Srl from Somma Vesuviana (Naples) spread the nutritional principles and quality of dried fruit at Gustus Expo Naples 2016.
This is one of the main missions of Vincenzo Caputo, a company specialised in the commercialisation of products that are traditionally associated with the happiness felt after eating or the Christmas holidays in Campania. Walnuts and hazelnuts of our territory are used to demonstrate the health benefits of dried fruit.
Being on the market for more than 40 years, the company from Somma Vesuviana was founded by Vincenzo Caputo and has been run by his son Angelo since he was 16. Today, he's a young man in his forties and the leader of professionals who are younger than 40 years old.
"Walnuts and hazelnuts are our two main assets – marketing manager Pina Santucci explained to us – especially Giffoni hazelnuts, of which we are important producers. Generally speaking, the company commits itself to promoting the most typical products of the region".
Campania is the Italian region with the most antique cultivation of hazels. Over the centuries, natural selection led to the differentiation of Giffoni hazelnuts in the Monti Picentini. Since 1997, they have been considered as PGI products thanks to their specific features.
Vincenzo Caputo Srl has been one of the founders of the Consortium for the Protection of PGI Giffoni Hazelnuts, whose aim is to promote and increase the value of this excellence from Campania. "The company has always committed itself to spreading the features of this product not only among the consumers, but also within the large-scale retail trade."
Apart from the commercialisation of walnuts and hazelnuts, the company has generally taken part in the transition from a traditional to a more constant consumption of dried fruit due to the fact that it's very important for our diet.
In 2000, Vincenzo Caputo Srl took part in Nucis Italia, the Italian representation of INC – the International Nut and Dried Fruit Council Foundation that encompasses more than 700 operators of dried fruit coming from every corner of the world.
The main mission of INC is to use scientific research to demonstrate the health and nutritional benefits of dried fruit, so as to promote its regular consumption worldwide.